Breast Revision After Two Previous Breast Surgeries
Posted On: December 01, 2016 Author: The Office of Dr. Stuart Linder Posted In: Breast Implants, Breast Revision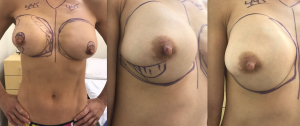 I evaluated this 31-year-old female who requested to have a breast revision. During her examination, she mentioned that this was going to be her third breast surgery. She had had two prior breast surgeries from other surgeons in Southern California and was hopeful this would be her last.
The frontal pre-op photos to the left show capsular contracture (scar tissue) and malposition of the right implant. Due to minimal breast tissue, the left breast shows rippling from the implant as well as malposition of the implant and low nipple position.
The patient's reconstruction or breast revision included removing the implants, nipple-areolar repositioning, and placing 445 cc SRX gel breast implants. Her post-op photo below is only 2 weeks out, but notice that she has no rippling, symmetrical balance, and nice fullness. She is very excited with the outcome of her procedure, and I will be seeing her a few more times over the next month to ensure an excellent result.
To schedule your consultation with Dr. Linder and learn more about breast revision surgery, call our office at (310) 275-4513 in Beverly Hills or fill out our online contact form today.