Daily Mail Article: Nose Jobs Driving up Opioid Use
Posted On: September 11, 2018 Author: The Office of Dr. Stuart Linder Posted In: Media, Rhinoplasty
Last week, I was contacted by health reporter Mary Kekatos from the Daily Mail. She stated that she was working on an article that was based on a study from Harvard University in Boston, Massachusetts. The team from Harvard University is now calling for a reduction of prescriptions with the hope of preventing patients from being exposed to prescription opioids and potentially starting a cycle of addiction.
During my discussion with Mary Kekatos, I stated that as a board-certified plastic surgeon it is vital to make sure the type of surgery is being weighed against the medication prescribed. In my practice, I have to make sure the pain is equivalent to the medication, and in many cases, treating pain may include muscle relaxants and ice compression to help with the discomfort of surgery.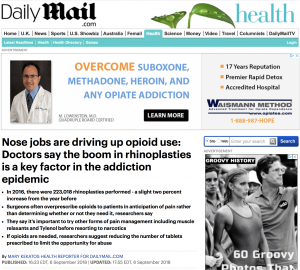 I was happy to contribute my thoughts to the Daily Mail, and I hope this article that came out September 6th, 2018, can help bring additional awareness to this opioid crisis.