Downsizing & Breast Reduction Surgery
Posted On: November 10, 2016 Author: Dr. Stuart Linder Posted In: Areolar Reduction, Breast Implants, Breast Reduction, Breast Revision, Breast topics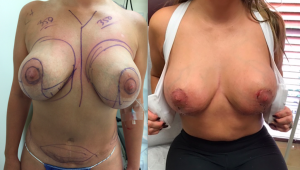 I evaluated a 29-year-old female who, after a previous breast augmentation in Mexico, was looking to improve the appearance of her breasts. During her consultation and examination, she expressed that she was hoping to correct the asymmetry of her breasts and the size of her nipples as well as downsize their overall shape. After listening to her desires and agreeing on the expectation, we scheduled her for breast revision surgery.
During her surgery, I removed the breast implants from the previous surgery and discovered that they were CUI silicone implants, which are not available in the United States. After I removed the CUI implants, I performed a breast reduction (mammoplasty), nipple reduction (areola reduction), and breast augmentation using 350 cc high-profile saline implants.
As you can see from the four-week post-op photo, the revision surgery has achieved a nice symmetrical balance , well-defined cleavage, smaller nipples, and a slightly smaller overall size.
To schedule your consultation with Dr. Linder and learn more about breast revision or breast reduction surgery, call our office at (310) 275-4513 in Beverly Hills or fill out our online contact form today.