Knob Knee Liposculpture
Posted On: March 13, 2014 Author: The Office of Dr. Stuart Linder Posted In: Body Sculpting, Knob Knee, Liposuction
Dr. Linder's procedure of the knob knee liposculpturing is the newest innovation with sculpturing of the medial knee fat pad, suctioning the fat along the medial knee area.  He uses a small incision with a small 2 mm blunt tip cannula to 1 atmosphere of vacuum suction pressure to lipo-sculpt the medial knee area.  This can be done under local IV sedation if done alone or it can be under general anesthesia combined with other areas, including the medial and lateral thighs, hips, and abdomen.
Medial knee liposuction requires finesse and very smooth liposculpturing of the localized deep fat deposits of the medial knee fat pad.  This should be performed only by Board Certified Plastic and Reconstructive Surgeons who understand the anatomy of the difficult area.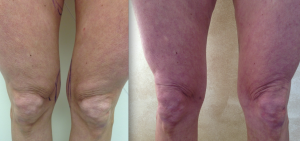 The example  shows a before and after of a patient one month postoperative from a medial knee procedure.  The knob knee has been reduced by suctioning with a small cannula under tumescent technique.  Notice a reduction of the fat herniation of the medial knee areas and a smoothing out of fat.