Mild Tubular Breast Deformity
Posted On: June 01, 2016 Author: Dr. Stuart Linder Posted In: Breast Augmentation, Breast Implants, Tubular Breast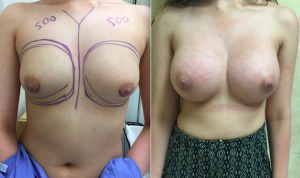 The patient to the left presented with a mild tubular breast deformity. Her preoperative photo shows a conical appearance to the breast and a poorly defined inframammary fold along the bottom of the breast. During her consultation, she expressed that she wanted to achieve more rounded breasts with fullness. After setting her expectations, we agreed to schedule an augmentation mammoplasty procedure using 500cc high-profile saline breast implants.
The 27-year-old patient is now six weeks post op. As you can see by the photo, she has nice fullness and a rounded appearance.
If you would like more information regarding tubular breast deformity or want to set up a consultation today, call us at

 

310-275-4517

 or fill out our 

online contact form.