Mommy Makeover / Tummy Tuck & Breast Lift
Posted On: September 28, 2015 Author: Dr. Stuart Linder Posted In: Body Sculpting, Breast Implants, Breast Lift, Mommy Makovers, Tummy Tuck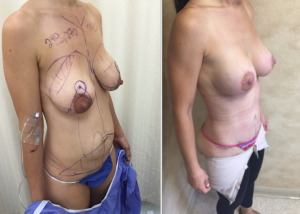 I was presented with a 40-year-old female who was looking to have a mommy makeover. During the consultation she was looking to have her abdomen enhanced as well as a breast augmentation. She explained that after 2 hernia surgeries and post pregnancy her goal was to get her shape back to pre pregnancy.
After setting her expectations, we decided to perform an abdominoplasty or tummy tuck, along with a breast lift and 240cc saline breast implant filled to 270cc to her right breast and 350cc to the left breast.
As you can see, after only six weeks post op, the patient is looking fantastic, and I'm very pleased with her recovery.