Rippling and Capsular Contracture, Revision Breast Surgery
Posted On: January 28, 2017 Author: Dr. Stuart Linder Posted In: Breast Asymmetry, Breast Implants, Breast Revision, Breast topics, Uncategorized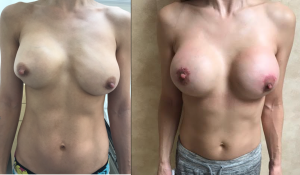 The female patient presented to the left was requesting to have a breast revision surgery due to her breast being asymmetry . During the examination, the breast had asymmetry due to the right breast having scar tissue (capsular contracture) and the left breast experiencing a rippling effect. Capsular contracture is scar tissue that forms around the breast implant which causes the breast to harden and the rippling was due to the amount of soft tissue covering the implant.  After listening to her goals, and agreeing on the expectation, we scheduled a surgery date.
During the surgery we used 445 cc SRX extra full profile silicone (gel) implants. This implant has a smooth shell surface and provides the patient with the fullest, roundest look. Using the silicone gel will also help reduce most of the visible rippling.
The post-op photo to the right is at 7-weeks and as you can see her breast are symmetric and she is very pleased with her shape and fullness. 
To schedule your consultation with Dr. Linder and learn more about breast revision surgery, call our office at (310) 275-4513 in Beverly Hills or fill out our online contact form today.