Ruptured Breast Implant Over 40 Years Old
Posted On: October 19, 2017 Author: Dr. Stuart Linder Posted In: Breast Revision, Breast topics, Implant Removal, Ruptured Implant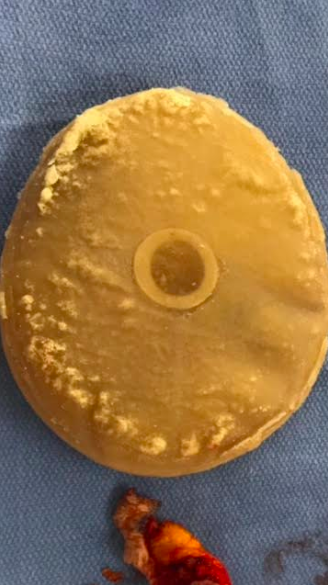 Weekly in my Beverly Hills surgery center, I perform breast revision surgery due to implant ruptures. However, it is not often that I come across implants that are over 40 years old. This past month I was removing an implant, which I knew was placed in the late 70s, and to my surprise, the implant was still intact. As I removed the ruptured implants, I noticed it was a textured board base shaped implant.
As you can see by the photo, the silicone implant was leaking from the pores and calcification (calcium) is present. During the revision surgery, I completely removed all of the scar tissue, and the pocket was then reconstructed for the new implant to be placed.
For more information regarding ruptured breast implant removal or breast revision surgery, please give us a call at (310) 275-4513 or feel free to contact us via email.