Total Capsulectomy of the Right Breast
Posted On: December 07, 2017 Author: The Office of Dr. Stuart Linder Posted In: Breast Revision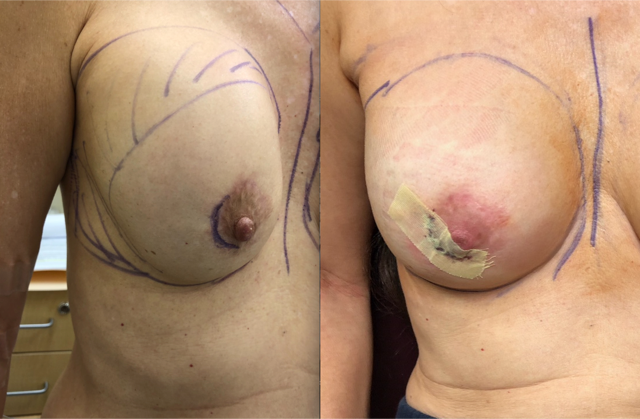 Just over one year ago, the 54-year-old female presented to the left underwent a breast augmentation procedure that was performed by a different surgeon. She came to my office and requested for her right breast implant to be removed and replaced because she was unhappy with the disfigured result she ended up with originally.
During the consultation, it was apparent that she had capsular contracture, which is scar tissue that forms around the breast implant causing the breast to harden and create this deformity (see in the pre-op photo to the left). After listening to her goals and agreeing on the expectation, we scheduled a surgery date.
During the surgical procedure, I performed a total capsulectomy and replaced the old implant with 315 cc SRX full profile silicone gel implant.
The post-op photo is only one day after surgery, but you can see her breast is already nice in appearance and she is very pleased with her shape and fullness.
To schedule your consultation with Dr. Linder and learn more about breast revision surgery, call our Beverly Hills office at (310) 275-4513 or fill out our online contact form today.