Tubular Breast Deformity, Severe
Posted On: September 03, 2013 Author: Dr. Stuart Linder Posted In: Breast Augmentation, Breast Implants, Home, Tubular Breast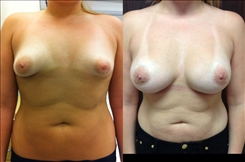 The patient presents with severe tubular breast deformity.  Notice her preoperative photographs showing conical appearance to the breast, poorly defined inframammary folds, flattening to the bottom of her breast (left greater than right) and pseudo-herniation of the nipple areolar complex.  The patient is an exceptionally good candidate for tubular breast augmentation/reconstruction with high profile saline implants placed in the dual plane technique with radial striation of the lower poles of her breast.
The second photograph shows the markings that have been placed with 490 cc of high profile saline on the right and 505 cc on the left to regain symmetry.  She had partial resection of the retroareolar tissue with dual plane augmentation mammoplasty procedure as well as formal radial striation of the breast without any form of breast lift.  Her postoperative photograph shows a one-year postoperative result.  She has good symmetry, softening of the breast, excellent cleavage, inframammary folds are quite even and the nipple areolar complexes are quite symmetric.  Patient is extremely happy with the results of her tubular breast reconstruction.
Patients present to my practice with tubular breasts weekly.  I enjoy fixing this difficult problem, as only Board Certified Plastic and Reconstructive Surgeons specializing in breast augmentation and revisions should.