Mommy Makeover
Posted On: August 14, 2012 Author: Dr. Stuart Linder Posted In: Breast Augmentation, Breast Lift, Home, Liposuction, Mommy Makovers, Tummy Tuck
Massive Skin Laxity
Patients present to my office in Beverly Hills status post pregnancy, weight loss and status post breastfeeding with massive amounts of skin laxity after significant weight gain and then significant weight loss after pregnancy.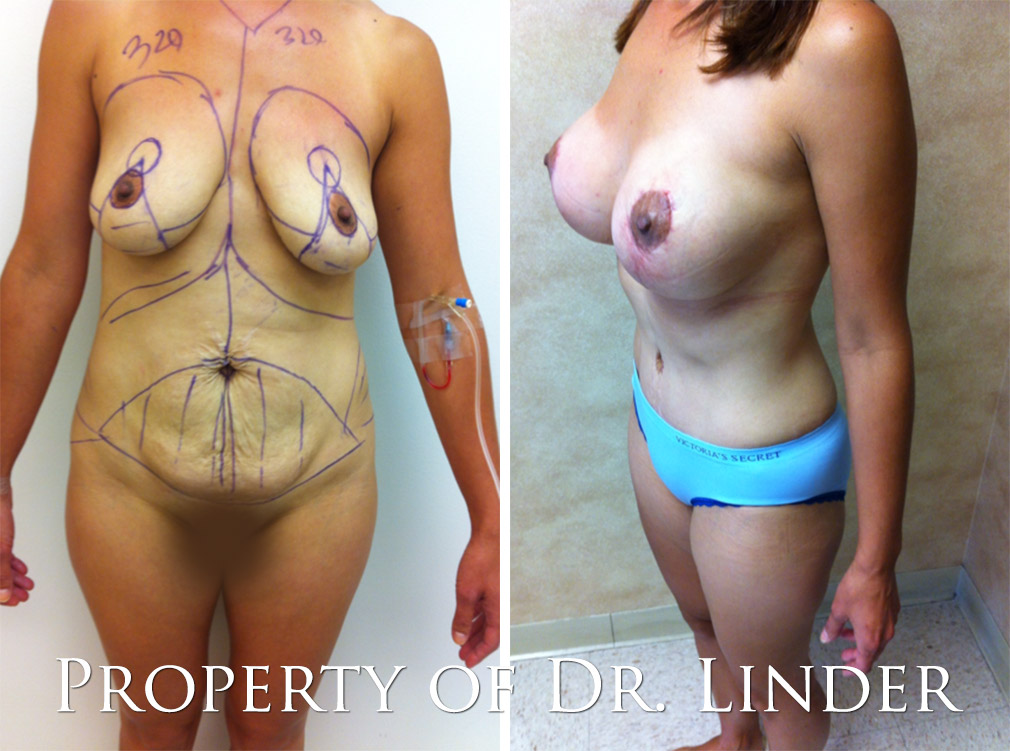 This patient specifically has severe grade 3 ptosis and her nipples are well below the inframammary fold.  She has significant amounts of lower abdominal skin laxity with stretch marks extending 3 cm above the belly button.  The patient underwent silicone gel augmentation using high profile silicone implants behind the muscle with a complete mastopexy, formal breast lift, removing skin using the anchor pattern or Wise-pattern technique, full abdominoplasty with tightening of the rectus sheath and muscle internally.  Her postoperative results are at six weeks and still show some redness of the scars around the nipple areolar complex and vertically; however, the nipple positions are now placed perfectly in the central portion of the breast.  She has a natural appearance to her breast with good tightening.
The patient's abdominoplasty shows tightening of the rectus sheath, still healing scars of the umbilicus and the Pfannenstiel incision.  The liposuctioning of the iliac crest rolls smooth out the hips nicely.  The patient will be maintained on Bio corneum silicone spray twice a day for six months.  She has worn an abdominal binder for six weeks and will continue for another four weeks.  Her postoperative course if uneventful and she has an excellent result for a mommy makeover, having had an abdominoplasty, liposuction of the hips, breast augmentation and a formal mastopexy using the inferior pedicle Wise-pattern technique.