Breast Revision After Breast Cancer
Breast Revision After Breast Cancer and Reconstruction
Some patients who are diagnosed with cancer and undergo a mastectomy and breast reconstruction find that the shape, symmetry, or balance of their breasts has been lost or distorted. Dr. Linder offers breast revision for breast cancer patients who want to rebuild or revise unsatisfactory breast reconstruction results. Breast revision can restore a natural, attractive, and symmetrical breast appearance.
---
Reasons for Breast Revision

After Reconstruction

Postoperative complications after implant reconstruction often include capsular contracture, which occurs when the scar tissue capsule around the implant begins to compress, hardening the implant and sometimes causing pain. The implants may also rupture or become malpositioned and cause the breasts to appear distorted. Rupture of an implant may occur, leading to deflation of a saline implant or the need for an MRI to verify the rupture in a silicone implant. In some cases, implant rippling may be visible through the breast tissue, and the nipples and areolas may appear abnormal. Breast revision can be performed to correct these and many other problems following breast reconstruction.
---
Breast Revision
Techniques
Dr. Linder will use one or more of the following techniques based on the patient's goals and individual needs.
Open Capsulectomy: This technique corrects capsular contracture by completely removing the scar tissue capsule around the breast implant.
Circumferential Capsulotomy: This procedure releases the scar tissue capsule around the implant to relieve contraction and pressure on the implant. It may also involve partial removal of the capsule.
Implant Replacement On One or Both Sides: This technique involves removing one or both of the current implants and replacing them with new ones to correct rupture or breast distortion and create symmetry.
The following additional techniques may be used in combination with revision methods:
Acellular Dermal Matrix (ADM) Grafts: ADM grafts provide support to the breasts to improve common aesthetic problems after reconstruction, such as lower pole breast shape, inframammary fold, capsular contracture, implant position, and "rippling."
Fish Tail Flap: This technique removes redundant skin at the lateral end of a mastectomy scar.
Nipple Reconstruction/Nipple Tattooing: This procedure corrects the absence of a nipple or adds volume and/or shape to one or both nipples.
---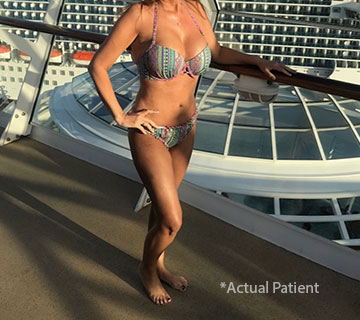 "Thank you for making me whole again after 10 years. You are the best reconstructive surgeon. I have ever come across, and are family to me. You took all I've been through and changed my life for the best. You are an amazing man, held my hand through the surgery. Thank you from the bottom of my heart! I wish I could say more!

Thank you very, very much.

*I'm so proud of what you did for me and your passion for your work."

San Diego, CA
---
Insurance

Coverage

Often, breast revision surgeries after breast reconstruction will be covered by insurance carriers, making this an affordable and accessible procedure for breast reconstruction patients. The Women's Health and Cancer Rights Act of 1998 (WHCRA) mandates that all health plans that offer coverage for breast cancer treatments must also provide coverage for services relating to the mastectomy. This generally includes all stages of reconstruction and revision to achieve breasts with as near normal size and shape as possible, including procedures on the opposite breast to achieve a symmetrical appearance.

Patients who are interested in undergoing revision surgery should find a surgeon who specializes in both cosmetic and reconstructive breast surgery. An experienced, board-certified plastic surgeon who is a diplomate of The American Board of Plastic Surgery (ABPS) will have the skills and qualifications necessary to choose and execute the revision techniques needed to achieve ideal results.

If you are interested in breast revision to restore a natural breast appearance, please call (310) 275-4513 or fill out our online contact form for more information. Dr. Stuart Linder is an ABPS board-certified plastic surgeon who specializes in body sculpting and breast enhancement procedures and has extensive experience providing his patients with exceptional results.
---