Breast Implant Revision in Beverly Hills, CA
Breast implants are designed for long-term enhancement of the breasts; however, certain circumstances dictate that they must be replaced during what is commonly known as breast revision surgery.
Dr. Linder has perfomed over 1,000 breast revision surgeries in Beverly Hills...
Whether breast augmentation has resulted in damaged implants or an unsatisfactory breast appearance, Beverly Hills Plastic Surgeon Dr. Stuart A. Linder can improve and revitalize the look of your breasts with breast revision. While implants may last for a decade or longer without causing any problems, many women decide to change their breasts for a variety of reasons.
Watch Video
Reasons to Consider Breast Revision
Natural Changes
Over time, a woman's breasts tend to change in laxity, size, and shape. Pregnancy, extreme weight fluctuations, and aging can all affect how the breasts look, even after augmentation. Breast revision addresses the natural changes in the breasts after augmentation and can provide you with a more pleasing chest appearance.
Post-op Complications
Many of the potential complications associated with breast augmentation are uncontrollable. Implant failure, for example, may occur even in patients who received exceptional care during their breast augmentation treatment. Breast revision can correct postoperative complications, such as implant rupture, and restore a pleasing bustline.
Unsatisfactory Results
Personal preference regarding breast aesthetics can change through the years, and sometimes the outcome of an initial breast augmentation is unsatisfying right away. When breast augmentation does not meet a patient's expectations, it is appropriate to consider breast revision. Implant size, placement, and type can be modified during breast revision.
Why Choose Dr. Linder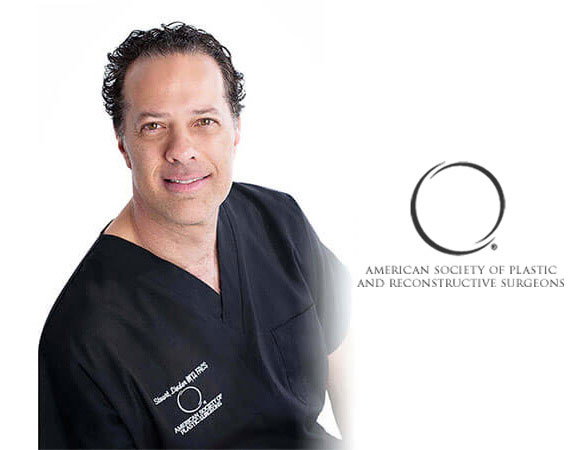 ---
Stuart A. Linder, M.D., is a board-certified plastic surgeon located in Beverly Hills, CA. He has over 20 years of experience performing body contouring procedures such as breast augmentation, breast revision, Mommy Makeover surgery, and tummy tuck surgery. Dr. Linder prides himself on educating his patients throughout the process, beginning with the consultation and extending all the way to the last follow-up appointment. Patients from all over the world come to Beverly Hills to see Dr. Linder and have him perform their body contouring procedures. With his knowledge from having placed over 14,000 breast implants, and authored The Beverly Hills Shape, Dr. Linder continues to contribute to discussions on plastic surgery via various media outlets.
---

Breast Revision
"Thank You! At 60 yrs with 3 surgeries behind me, I was scared to death to try to fix my problem again. From the first phone call with Nellie, ( I luv you Nellie!) she put me at ease and that gave me hope of walking in another office. Meeting you, sealed the deal. You were so kind and understanding. Very professional to tell me you would 'help me' make the decision regarding size according to my body, skin, previous surgeries, etc.. Again, thank you soooooo much for my 20yr old looking boobies!!!"

View More Reviews
"Dr. Linder, There simply are no words to describe how grateful I am to you. All because of you even at 53 years old I *"have my sexy back" with these new beautiful breasts.* Do you have any idea what it feels like to look in a mirror and finally really love what you see? Well I do now thanks to you! I will always be grateful to you.Warmest regards and a million thanks."

View More Reviews
"Dr. Linder, It's not the regular augmentations that are impressive, but his ability to correct/revise other surgeons mistakes. I don't know where I'd be, mentally and emotionally, if it wasn't for Dr. Linder fixing mine." Dr. Linder is the best implant surgeon EVER, I HIGHLY recommend him as he's saved my breast countless times and I only trust his BEAUTIFUL WORK."

View More Reviews
Breast Implant Revision Frequently Asked Questions
It has been 10 years since my initial breast augmentation. Do I need to have my implants replaced?

Contrary to popular belief, breast implants do not need to be replaced every 10 years. If you are free from pain and happy with how your breasts look, there is likely no reason for breast revision; however, it is recommended to see a board-certified plastic surgeon if you have any concerns regarding the condition of your breast implants.

What are the brands of implants used at this facility?

Dr. Linder prefers smooth, high-profile saline and silicone implants by either Mentor® or Allergan Corporation. Both are FDA approved and come with a lifetime guarantee.

How much does a breast implant revision surgery cost?

There are many factors that are considered when determining the cost of a breast revision surgery. Depending on the reason for a revision; post-op complications (capsular contracture, double bubble, bottoming out, ruptured implant), a desired implant size change and the type of implant being replaced, all must be considered prior to determining the cost. You will receive a cost estimate for your individual procedure during your initial consultation.

When will I be able to return to work after having breast revision surgery?

The length of your recovery depends greatly on the extent of correction required as well as the techniques used during your breast revision. Usually, patients can go back to work within one week, but any strenuous activity should be avoided for at least three to four weeks.

What are the potential risks associated with breast revision surgery?

Complications related to breast revision surgery are uncommon, but there are risks to any surgery. Some of these risks include:

Changes in sensation
Hematoma
Scarring
Unsatisfactory results

Where are breast revision surgeries performed?

Dr. Linder performs most of his breast implant revision surgeries at the Brighton Surgery Center in Beverly Hills, CA. The surgery center is Medicare & Joint Commission-accredited. He also has privileges at the premier medical center Cedars-Sinai in Los Angeles and is an Attending Surgeon in the Division of Plastic and Reconstructive Surgery since 1997.