Reviews & Testimonials
Dr. Stuart Linder is a board-certified plastic surgeon in Beverly Hills, California.
With over 20 years of experience and being selected as Top Doctor by Castle Connolly.
Dr. Linder has changed the lives of thousands of men and women throughout the world.



















February, 2021
Totally Worth The Trip From Florida
For the past 20 years, I have been traveling from South Florida to have Dr. Linder perform plastic surgery. It is worth the trip to see him.
January, 2021
Dr. Linder, Thank you SO MUCH for everything you did for me. I don't have enough works to express how grateful and impressed I am by your work and your wonderful team. Everyone was so sweet, nice, polite and most importantly caring!
Amazing experience! Admirations!
L.
January, 2021
Patient expresses to Dr. Linder how she feels and looks amazing. I had a breast reduction, lift, implants (high profile) along with a mommy makeover, involving liposuction of the stomach, inter and outer thighs, flanks and bra bulge areas.
Six weeks post surgery!
January, 2021
Dr. Linder is my superhero. I cannot say enough nice things about Dr. Linder. All my friends all brag about Dr. Linder for the past 10years.
Finally, it's my turn. I went in to see him for a breast reduction and lift. Immediately, I felt that I was in good hands. He has great bedside manners, personality, funny, a good soul and just a sweetheart. Everything you want to feel safe and comfortable before, during and after surgery. Trust him and trust the process. The BEST OF THE BEST surgeons. Don't short change yourself going to someone less reputable. Don't cut corners when it comes to the best care. Remember, you deserve only the BEST. It's only been a couple of days since post opt. And I feel absolutely amazing. Sitting in my car with tears of joy. Dr. Linder has absolutely changed my life for the best!!. I had surgery on the 12/23 and it felt like I took 10-15 min nap. No Pain. I was a 36E and be took me down to a VERY nice full 36C.
Absolutely, gorgeous girls. I look like I have implants. Looking forward to my new life.
Thank you Dr. Linder for giving me a second chance to live and truly enjoy my life the way I want with no restrictions. You are AMAZING!! I wish you nothing but the BEST and blessings upon blessings.
My 2020 hero. My superhero. Dr. Stuart Linder.
S.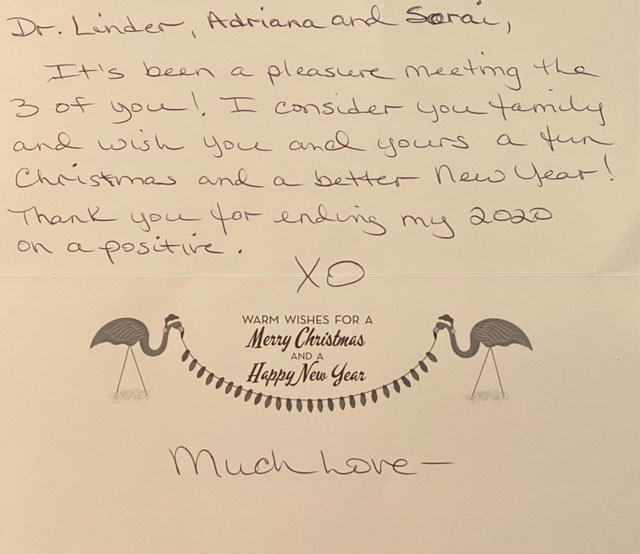 December, 2020
Dr. Linder, Adriana and Sarai,
It's been pleasure meeting the 3 of you! I consider you family and wish you and yours a fun Christmas and a better New Year!
Thank you for ending my 2020 on a positive. XO
Much Love
A. L.
December, 2020
Dr. Linder,
We are so happy with our results!
Mother & Daughter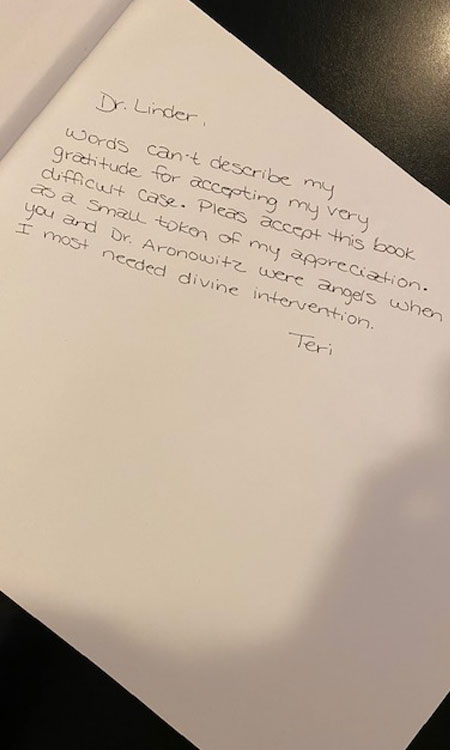 December, 2020
Dr. Linder,
Words can't describe my gratitude for accepting my very difficult case. Pleas accept this book as a small token of my appreciation. You and Dr. Aronowitz were angel's when I most needed divine intervention
Teri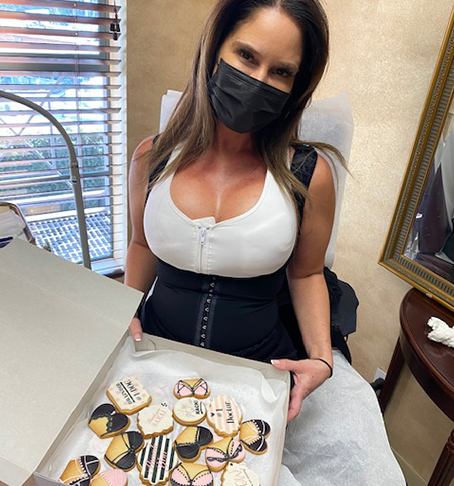 November, 2020
Dr. Linder #1 DOC and Love my new rack!
Thank you,
Sarai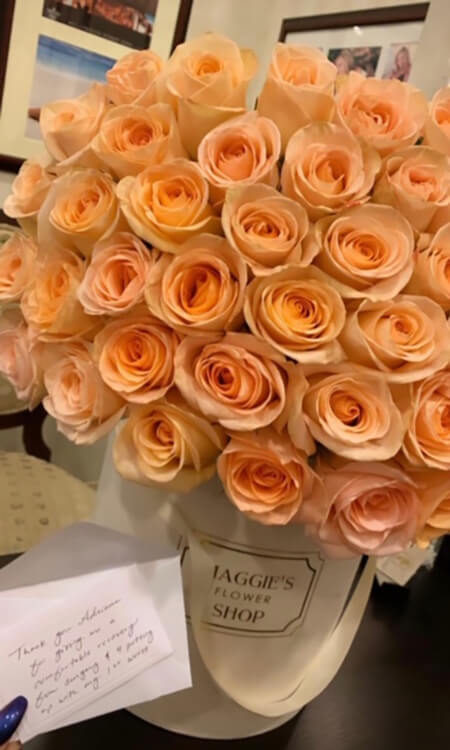 November, 2020
Thank you Adriana for giving me a comfortable recovery from surgery and 4 putting up with my 1st worst day being a baby LOL.
I couldn't of asked 4 a better you. (If that makes sense) LOL
XOXO
W.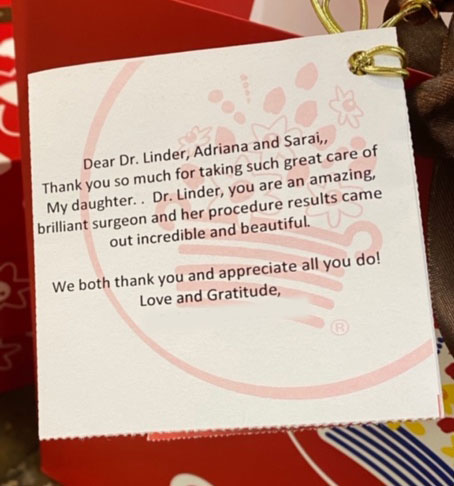 October, 2020
Dear Dr. Linder, Adriana and Sarai,
Thank you so much for taking such great care of my daughter.. Dr. Linder, you are an amazing, brilliant surgeon and her procedure results came out incredible and beautiful. We both thank you and appreciate all you do!
Love and Gratitude
R & C
October, 2020
Dr. Linder is absolutely amazing! His experience, knowledge & confidence is what truly drew me to pick him as my surgeon. His staff is so wonderful as well & make you feel very at ease with the whole process. I am currently 3 weeks post op from my breast augmentation & am beyond happy with my results!! Make that consultation, as it was the best decision I've made.
M.A.
September, 2020
Dr. Linder is the GOAL.
Confident and standing tall
Plastic Surgery his call
Competent, accessing quick
Golden scalpel-that's his trick!
Slice and dice and make me nice,
steady hands and don't thick twice
Laser focus, skill and knowledge
He's the G.O.A.T. and we acknowledge!
Cutting through the fat and muscle, changing lives is his true hustle.
Perky boobies, lip, tummy he creates for every wife.
Thank you Doctor for the tits, thanks for fixing all my bits!
Reassuring, kind and fun, your are ALL THAT and the SOME!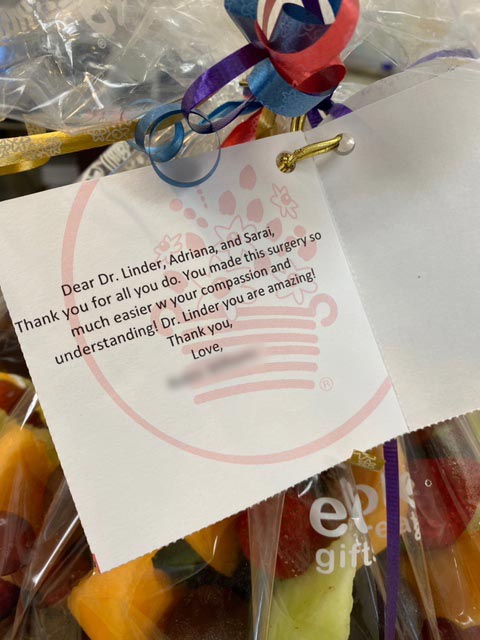 September, 2020
Dear Dr. Linder, Adriana, and Sari Thank you for all you do. You made this surgery so much easier w your compassion and understanding!
Dr. Linder you are amazing!
Thank you.
Love,
R.W.
August, 2020
Dr. Linder, thank you for creating a miracle for both of us, our confidence level is high, and we are very happy with our breast enhancement. All the staff was awesome, they answered all our questions, and we are extremely thankful.
August, 2020
Dr. Linder- is the best surgeon! When I came to the decision of getting breast augmentation I did a lot of research in Newport Beach as its a closer to me but then I also met the team of Dr. Linder & Adriana and knew instantly that he was the one!
My husband came with me to the appointment as he wanted to meet the doctor and ask him his own set of questions to make sure everything would go smooth. Dr. Linder and his staff were great they were by my side before and after the surgery. His experience and knowledge truly gave me the confidence I needed to have him perform the surgery.
I love his staff they are very caring!!!
I would HIGHLY recommend him.
E.V.