ABDOMINOPLASTY
Posted On: October 16, 2012 Author: The Office of Dr. Stuart Linder Posted In: Body Sculpting, Home, Tummy Tuck
Recently, I posted an article on abdominoplasty and tummy tuck procedure on www.drlinder.com.  Tummy tucks are one of my most common surgical procedures that I perform in my Beverly Hills Surgery Center.  In order to create a beautiful abdomen with patients who have either had significant weight loss, fluctuation of weight or have had multiple pregnancies, it is often standard to not only remove skin and fatty tissue through a long C-section-like scar, but also to perform the tightening effects of the rectus abdominis muscle by plication.  Tightening of the rectus muscle will allow for a firmer abdomen.  Patients who have rectus diastasis may have both above and below the umbilicus and this must be addressed by the surgeon both preoperatively as well as in the operating room.  It is extraordinarily important that only Board Certified Plastic and Reconstructive Surgeons are performing abdominoplasty procedures.  These are complicated operations that require the skill and experience of truly Board Certified Plastic Surgeons.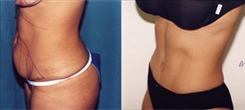 Scar position is extremely important.  Lowering the scar just above the suprapubic hairline will allow women to wear bikinis and lingerie without showing the scar.  This may therefore however require a vertical small scar in the midline from the previous umbilicus hole which will then be revised in three to six months once the tension is reduced using a V-Y plasty.  Liposculpturing of the iliac crest roll hips concurrently is often performed in my patients in order to allow smoothing out and reduction of the muffin top that can occur.
Abdominoplasty procedures when performed correctly lead to excellent results.  Obvious tradeoff is a significantly long scar.  These scars can be treated postoperatively with Kelo-Cote, Bio-Corneum silicone gel spray, silicone gel sheets as well as car revisions and laser therapy.