African-American Breast Enhancement Surgery
Posted On: August 11, 2012 Author: The Office of Dr. Stuart Linder Posted In: Breast Augmentation
PERIAREOLAR APPROACH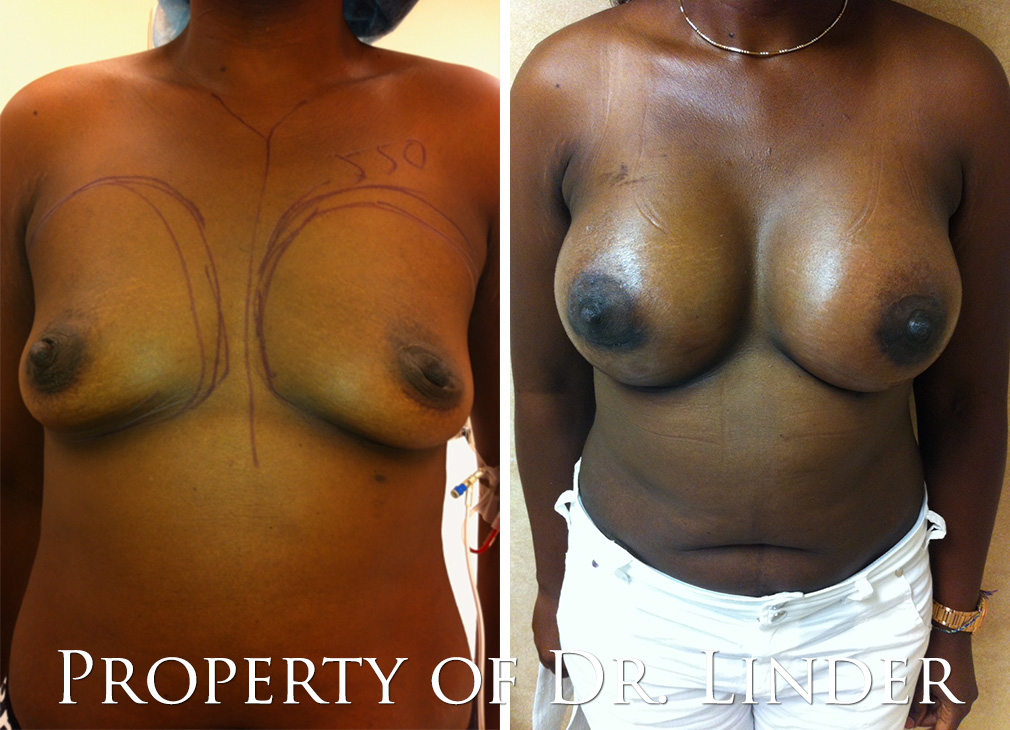 The example shows a before and after typical result of a bilateral breast augmentation performed on an African-American woman through the periareolar approach.  I have never seen on my patients a hypertrophic or keloid scar of the periareolar in an African-American patient, having performed thousands of augmentations on women of color.  The close-up of this bilateral periareolar after six weeks once again here shows no evidence of hypertrophic scars, keloids, widespread or hypopigmentation.
I believe it is very safe to perform periareolar approach augmentation mammoplasty procedures on women of color and that I have not seen an increased incidence of poor scarring in these areas.  All of my breast augmentation patients will have scar cream of some sort placed after the sutures are removed, which can include Bio corneum with silicone gel spray, vitamin E or Kelo-cote (silicone gel without the sun block).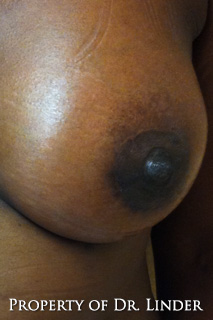 The key to excellent scar results is associated with surgical technique in many cases and reduction of tension on the incision sites.  Periareolar incision approach on all women heal with excellent scars as long as they are multiple layer closure as well as running subcuticular sutures in the skin and possibly Steri-strips or skin adhesive that helps to reapproximate the dermis and epidermal layers.