BREAST REDUCTION PROCEDURE
Posted On: March 27, 2012 Author: Dr. Stuart Linder Posted In: Breast Reduction, Home
USING INFERIOR PEDICLE WISE-PATTERN TECHNIQUE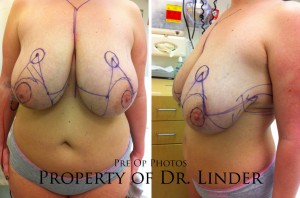 After almost 15 years in practice, I still consider the inferior pedicle Wise-pattern technique for breast reduction surgery to be the safest, with the most predicable results, as well as allowing the greatest chance in maintaining survivability of the nipple areolar complex.  The patient examples show a woman with 40GG breasts, presenting with significant symptomatology of breast hypertrophy and gigantomastia, including neck pain, grooving along the shoulder blades, rashes under the breasts and massive pendulous breasts with inability to wear normal brassieres.  The patient's frontal and oblique views are notable.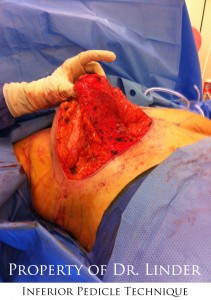 The patient was brought to the operating room and after administering general anesthesia via laryngeal mask airway, the chest was prepped with Betadine solution.  The de-epithelialization of the base pedicle was maintained with a 10-to 12 cm base along the inframammary fold to the pedicle to maintain vascularity.  The next photograph shows the inferior pedicle with excellent blood supply.  It's a bipedicle flap with only a small portion of the superior central wedge removed.  Notice the inner and outer breast tissue have been removed and the dissection was carried out just above the level of the fascia of the pectoralis major muscle.  The tissue removed is weighed at well over 600 grams per breast to bring her down to a "D" size breast.  This is proportional for her size.  The blood supply is maintained to the nipple areolar complex through the inferior pedicle, even better if some of the superior pedicle can be maintained, leaving it as a bipedicle flap.
Once again, after 15 years experience in private practice using the inferior pedicle Wise-pattern technique for breast reduction surgery, this is my favorite choice due to safety and predictability.