Explantation & Breast Reduction With Lift
Posted On: October 03, 2018 Author: The Office of Dr. Stuart Linder Posted In: Breast Lift, Breast Reduction, Breast topics, Implant Removal
Breast Implant Removal With Breast Reduction and Lift
The female patient presented was looking to have her breast implants removed and wanting to improve her breast appearance without placing new implants. During her examination, she expressed she was hoping to have a breast lift and reduction. After discussing her expectations, we agreed to perform an explantation (implant removal), mammoplasty (reduction), and mastopexy (breast lift).
The video below shows the pre-op marking where I go over the implant removal, breast reduction, and a full breast lift (mastopexy) using a wise pattern anchor approach.
During her surgery, I removed the high placed breast implants and performed a breast reduction (removing some tissue and skin to reshape and reduce the size of the breast) and a lift to bring the breasts to a higher and more youthful position.
The post-op (day one) photo shows a drain placed to help decompress the space around the pedicle that was created as well as wearing a Linder Bra to provide support after surgery.  The patient is happy, and she has achieved a nice shape and symmetrical balance.
Breast Implant Removal
I was presented with a 51-year-old female patient desiring removal of her 300cc silicone breast implants. During the consultation, we discussed her desire to remove the implants, and we determine she would be a good candidate for the explantation no replacement procedure. After removing her implants, drains were placed for seven days. The photo below show an excellent example of explantation.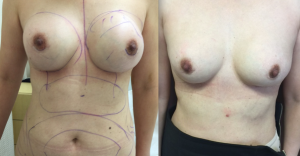 To schedule your consultation with Dr. Linder and learn more about breast implant removal, breast reduction, or breast lift, call our office at (310) 275-4513 in Beverly Hills or fill out our online contact form today.