EXPLANTATION WITHOUT LIFT
Posted On: October 22, 2014 Author: The Office of Dr. Stuart Linder Posted In: Breast topics, Implant Removal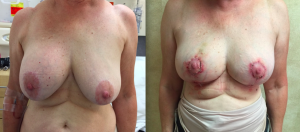 Patients present desiring implant removal without a breast lift. Certain patients are candidates for this operation where implants can be removed, drains placed for seven to 10 days without a full breast lift. This is an excellent example of a patient who has severe scar tissue with a Baker IV capsular contracture and a rupture of the left implant. From my experience and judgment, this patient will do well without a full breast lift and for her the scars would not be worth the tradeoff of a further tightening procedure.
Her preop photos show severe right breast hardening with a double-bubble deformity, scar tissue contracture with implant raised superiorly. The left breast shows ruptured implant. Patient has already had a periareolar lift by a previous surgeon. In any case, the implants were removed and drains were placed.
She was placed in a Dr. Linder Compressive Bra for six weeks. Notice, there is good position of the nipple areolar complex and there is contracture of the tissue with excellent position of the breast itself. This is an excellent example of explantation without a breast lift for a patient that desired implant removal after 14 years.