Favorable Approach to Breast Augmentation
Posted On: May 29, 2009 Author: The Office of Dr. Stuart Linder Posted In: Home
Dr. Linder sees patients from all over the world, especially Beverly Hills as well as Las Vegas.  He now is licensed in both states, California and Nevada.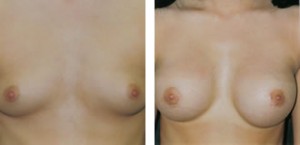 My favorite approach to breast augmentation is through the periareolar (underneath the areola).  Through a very small incision, an implant can be placed under the muscle using the dual plane technique, safely and predictably with reduced incidents, in my opinion, to nerve injury, breast duct damage, allowing patients to have sensitivity as well as have reduced loss of lactation.
Placement of implants through the periareolar approach is safe and predictable and allows for good cleavage and evenness of the inframammary folds.  I do not favor the transumbilical approach, as the distance is so far from the umbilicus to the pocket of the chest wall that it is, I believe, more difficult to position the implant perfectly and I believe that malposition is much higher, as well as releasing of the muscle is much more difficult to do.  Through the periareolar approach, the release of the parasternal and the inframammary attachments of the pectoralis major muscle is only about 2 to 2.5 cm.  From the transumbilical it is obviously well over 20 to 24 cm, which is such a long distance that I believe a meticulous dissection is very difficult, if not completely impossible.
In any case, I also do not like the transaxillary approach in that the implants have a higher rate of malposition, double-bubble deformity which once again the parasternal release of the muscle is not perfectly done and therefore the implant then goes too high.