Holiday Body Sculpting Beverly Hills Style
Posted On: September 14, 2011 Author: The Office of Dr. Stuart Linder Posted In: Body Sculpting, Bra Bulge, Liposuction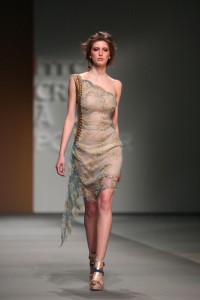 Interestingly, numerous consultations are now presenting in September with the desire to be picture perfect, cocktail party perfect, holiday red carpet perfect for their newest fashion line specialty dresses.  Beverly Hills women are getting ready for the Thanksgiving, Christmas and New Year holiday parties, being perfect, camera-ready in their Valentino, Roberto Cavalli, Versace and Vera Wang dresses.
In order to fit perfectly in masterpiece clothing, they will need to be fit and ready.  The multitude of body sculpting procedures that Dr. Linder performs, including those he has discussed on national television, including the bra bulge procedure, muffin top, muffin bottom and saddlebag procedures will greatly enhance these women's figures by reducing that unwanted lipodystrophy or fatty distribution seen in the hips, the lateral bra areas and the outer thigh regions.  The newest fit dresses from these top designers would unfortunately accentuate the bra bulge (these are the tight fits along the lateral chest areas).  Removing the bra bulge with simple liposculpture technique will help to perfect that outer upper hourglass figure.  The shorter hemline dresses above the knee may accentuate the saddlebags and thereby liposculpturing these areas will greatly reduce the effects of the widening and gynoid appearance of the lower third of the body.  The pre-jean roll or the muffin top can be greatly exaggerated by the tightly fitted skirts and dresses and therefore removing the muffin top through the bidirectional suction tumescent technique that Dr. Linder performs will greatly reduce the upper jean roll bulge.
Cocktail party season, holiday season is just around the corner.  Patients throughout Beverly Hills, in fact, worldwide, are now presenting for sculpting procedures in order to reduce the unflattering appearance that may be seen in the most exquisite dresses known to mankind.