Hollywood Drives Consumer Interest in Aesthetic Procedures
Posted On: April 19, 2010 Author: The Office of Dr. Stuart Linder Posted In: Media, Mommy Makovers, Plastic Surgery
THE AESTHETIC GUIDE, April, 2010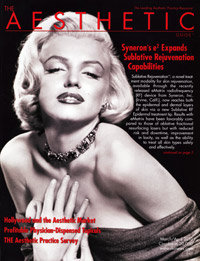 Contributing editor, James Tager, does a fantastic job in describing Hollywood's affect on consumer interest worldwide on plastic surgery procedures.  The lengthy article describes the affect of celebrities in Hollywood on cosmetic surgery throughout the world.
I appreciate the opportunity to have been included in the writing of this article for the Aesthetic Guide Magazine.  In simple form, Bedford Drive, Beverly Hills, is not only filled with exceptional plastic surgeons, but is the home site for tens and tens of paparazzi day in and day out, enduring hours of waiting to capture photographs of the celebrities who wander down our block.  A day does not go by in which the cameras flash around our building and up and down Bedford Drive.  The appearance of celebrities from Marilyn Monroe to today's super models and celebs has not changed all that much.  The intrigue and appetite of the consumer has only increased through the years.  Without a doubt, Beverly Hills and Hollywood drives women throughout the world to endure countless cosmetic surgical procedures, including Botox injections to total mommy makeovers.
The article is included here by PDF for your perusal.  I hope you find it entertaining, educational and enjoying.