Liposuction of the Saddlebag-Thigh Area
Posted On: May 10, 2019 Author: The Office of Dr. Stuart Linder Posted In: Body Sculpting, Home, Liposuction
Saddlebag Deformities
Dr. Linder performed a saddlebag operation in order to remove those pesky resistant lateral thigh saddlebags.  Some patients, as seen below, have excessive amounts of fat in the lateral thigh area which cannot be reduced through diet or exercise if it is in fact genetic-induced fat that accumulates in the localized fat deposit areas along the lateral saddlebags.  This patient in particular had a significant amount of fat also around the anteromedial and the iliac crest roll or hip region.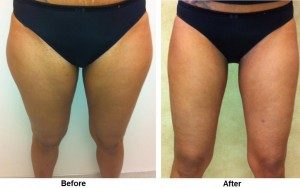 The patient underwent tumescent liposuction, removing fat in two planes, both superficial and deep in a criss-cross manner and the suctioning was aggressively performed with a 3 mm cannula superficial and a 4 mm cannula deep, which allowed the fat to be removed in a smooth contour fashion.  Her after results show significant reduction in the thickness of her leg which has now proportioned her upper middle and lower third of her body.
Over 1.6 liters of fat was removed! Notice the sharp buttock crease afterwards and and smoothing out of the thighs.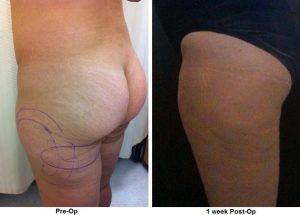 For more information regarding liposuction of the hips and thighs or to find out if you are an ideal candidate  you may call our office at (310) 275-4513 or to schedule a consultation with us online today!