Natural Breast Augmentation Surgery
Posted On: March 22, 2011 Author: The Office of Dr. Stuart Linder Posted In: Breast Augmentation
BEVERLY HILLS, CA – In order for our patients to obtain the most natural appearance on their augmentation mammoplasty procedure and still obtain upper pole fullness, in general, I like to place high profile saline, moderate plus profile saline or silicone gel implants under the subpectoral dual plane technique.  Placing implants with medical two-third muscle coverage allows a softening and an effacement of the upper pole of the implant.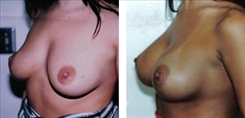 Even the style 45 extra high profile implants in my patients who have implants placed under the muscle have shown a natural appearance to the upper pole without an unnatural shape or rounding along the upper pole of the breast.  Secondly, upper pole compression bands are used in all my primary augmentation mammoplasty procedures in order to allow for inferior displacement of the implants as well as softening of the upper pole of the pectoralis major muscle, the sternal head of, and to reduce unnatural appearance.  The upper pole compression bands can be worn for up to four to six weeks, depending upon the thickness of the muscle.  Patients with tubular breast deformity normally wear the bands for a longer period of time.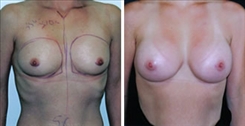 Expertise, experience and judgment of the Board Certified Plastic Surgeon is critical in allowing for a natural appearance to a breast augmentation patient.  In my practice, once again, placing the implants under the muscle using the dual plane technique as well as using upper pole compression bands as well as soft athletic brassieres or the Dr. Linder Bra, will allow for inferior descent and a natural positioning of the implants and softening of the upper pole muscle.