Panniculectomy Procedure in Beverly Hills
Posted On: November 09, 2018 Author: The Office of Dr. Stuart Linder Posted In: Home, Panniculectomy
Case Study #1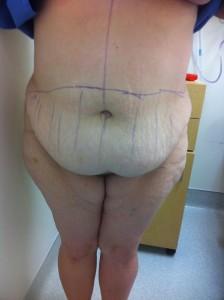 This case study shows a representative patient who presents with massive abdominal pannus, status post significant weight loss, status post gastric bypass surgery. The patient has lost well over 120 pounds and now has significant amounts of skin with a massive abdominal pannus. A panniculectomy can be performed in order to reduce the massive skin apron or pannus. It also is helpful as a functional surgery to reduce the mid and lower back pain in a similar fashion as to a breast reduction that reduces back pain from the upper back and the cervical region. This patient also presented with intertriginous rashes for over six months with dermatitis, contact dermatitis and tinea fungal infections. She was cleared by her internist, rheumatologist, orthopedic surgery as well as dermatologist for contact dermatitis and fungal infections.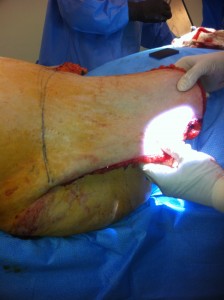 She underwent a panniculectomy under general anesthesia using an endotracheal tube, given Ancef intravenously with no history of penicillin allergies. The panniculectomy was completely resected. The abdominal wall was tightened in the midline conservatively using O-Ethibond sutures. The massive skin was then redraped, excised and sutured down the edges of the wound with three large 10 mm JP drains placed for at least 7 to 10 days. Liposculpturing of the iliac crest rolls was accomplished to reduce the lateral fullness of the hip area.
Case Study #2
I evaluated a 44-year-old female who wanted to improve her stomach area after massive weight loss. During her consultation, she explained how she was hoping to remove the loose skin as well as contour specific areas of her midsection. After listening to her and setting the expectation, we agreed to schedule two separate procedures to enhance the area.
I performed a panniculectomy, which involves surgically removing the excess skin and adipose tissue. At a later date, I performed liposuction to improve the contour of her stomach/abdominal area.
The post-op photo is four weeks out. As you can see, her skin and shape look great, and, most importantly, she is very happy with her new and improved look.
Case Study #3
A 32-year-old female had the desire to remove excess skin from her abdomen that was due to pregnancy and extreme weight loss. She came to my office for a consultation, and after setting the expectation, we agreed on a tummy tuck procedure and the surgery date was set.
The video below shows the amount of skin removed during the procedure to create the look based on her goals.
To schedule your consultation with Dr. Linder or learn more about body contouring, call our office at 310-275-4513 or fill out our online contact form today.