Patient's Choice Award 2008 Given to Dr. Linder
Posted On: March 05, 2009 Author: The Office of Dr. Stuart Linder Posted In: Home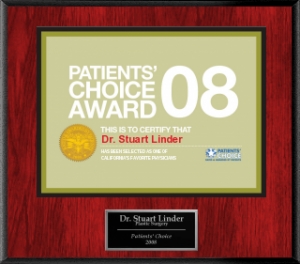 According to American Registry, Dr. Linder has been selected for the Patient's Choice Award for 2008.
He has been elected as a member of this elite group by more than 400,000 patient reviews and ratings that have been gathered and this top rating was awarded only to a select few physicians, doctors and plastic surgeons.
Dr. Linder is a Board Certified Plastic and Reconstructive Surgeon whose number one concern is a safe and predictable result for each and every one of his patients. Dr. Linder takes the time during consultation in the operating room and postoperatively to make every effort possible to achieve the best result possible for each patient.
Once again, Dr. Linder is thankful to American Registry and Vitals.com for selecting him and recognizing him with the Patient's Choice Award for 2008.