PEAR SHAPE GYNOID APPEARANCE
Posted On: October 06, 2011 Author: The Office of Dr. Stuart Linder Posted In: Body Sculpting, Home, Liposuction
Patients present weekly to us for liposculpture of the lower third of their bodies associated with gynoid or pear-shaped appearance.  Although their upper and middle third may have a nice trim appearance and be quite sleek in character, the lower third can also be disproportionately large, leading the patient to be greatly distressed.  Women often have muffin-top fat deposits as well as lateral saddle bags which leave them with the appearance of a very large lower third.  Through bi-directional liposculpture of the hip, iliac crest roll as well as liposculpturing of the inner and outer thigh saddle bag area, we can greatly slim out the entire lower third of the body given them a more proportionate symmetry from the lower third to the middle and upper third.  Please see the below example.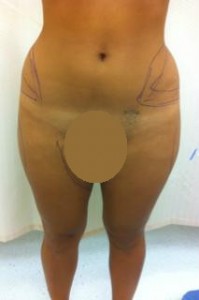 This patient is a 21-year-old female presenting with severe gynoid appearance, a pear-shaped appearance with a significant amount of lipodystrophy adiposity fat in the lateral saddle bag area and extending to the infragluteal fold.  This can be removed both along the inner and outer thigh through tumescent liposculpture technique and the iliac crest roll muffin top can be suctioned out in order to obtain a nice contour.  This is referred to as tumescent liposculpture under general anesthesia.  On this patient 1.25 liters of fat was removed after tumescent fluid was instilled.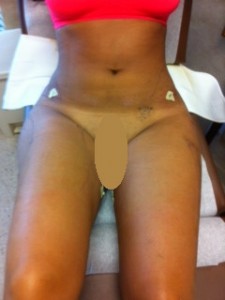 Postop Day One appearance with the patient in the sitting position shows nice smoothing out of the hips and narrowing of the inner and outer thigh, giving her much more proportionality with her upper and mid third.