Plastic Surgery Questions and Answers
Posted On: August 12, 2015 Author: The Office of Dr. Stuart Linder Posted In: Media, Uncategorized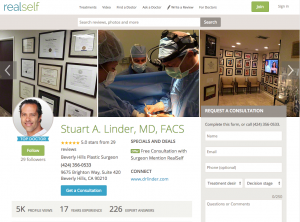 For the past few months, I have put an asserted effort to participate in answering questions on the world's largest community website for cosmetic surgery. Founded in 2006, RealSelf.com has created an extensive collection of reviews, photos, and Q&As for patients looking for help regarding plastic surgery and other specialities.
I have provided over 
225 answers to patients' questions
, and I hope my involvement is helping men and women across the country make better decisions and choices when thinking about plastic surgery procedures.
If you haven't had the opportunity to visit RealSelf.com, I would encourage you to take the time, as it is an excellent resource.