TOTAL BODY MAKEOVER
Posted On: March 26, 2013 Author: The Office of Dr. Stuart Linder Posted In: Body Sculpting, Breast Asymmetry, Panniculectomy, Tummy Tuck
STATUS POST MASSIVE WEIGHT LOSS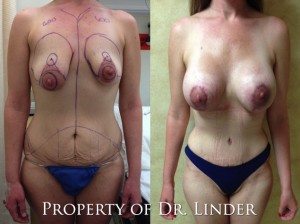 The patient presents with significant weight loss, well over 120 pounds, leaving her with severe breast asymmetry, grade 3 ptosis, massive abdominal pannus, skin laxity with residual lipodystrophy of the iliac crest roll hips.  The patient presented for breast enhancement, breast mastopexy and full tummy tuck procedure.  The frontal views show significant asymmetry with the right breast larger and saggier than the left.  She underwent augmentation mammoplasty procedure with 500 to 600 cc high profile Natrelle saline implants, a complete formal mastopexy using the inferior pedicle Wise-pattern The claimant with more skin taken from the right breast than the left in order to recreate symmetry.  Looking at her frontal postoperative view, the nipple areolar complex sits with excellent symmetry.  The upper pole fullness of her breast is excellent compared to her preoperative view with complete loss of fullness with a high profile saline implant placed subpectorally through the dual plane technique.  The scars have healed nicely.  Her oblique view shows good symmetry with nipple position straight out and well-healing to the scars at six weeks postop.
The abdominoplasty panniculectomy shows excellent tightening of the rectus abdominis muscle and the midline plication of the rectus sheath with complete correction of the lower abdominal skin laxity.  The lower abdominal hips show excellent contouring with loss of the significant dog-ear skin that is seen along the iliac crest rolls.
This patient is six weeks postop breast augmentation with high profile saline implants, subpectoral, formal breast lift and full tummy tuck with lipo body sculpting of the hips.  Her result is a standardized result with excellent contouring which is safe to perform all procedures, implant lift and tummy tuck on a healthy patient such as this that has been preoperatively cleared by her internist.  She will continue with vitamin E and Bio Corneum on the incisions with a Dr. Linder Bra and with an abdominal binder for another four to six weeks.