Total Body Sculpting Beverly Hills
Posted On: November 20, 2020 Author: The Office of Dr. Stuart Linder Posted In: Body Sculpting, Breast Augmentation, Home, Tummy Tuck
Patients present to my practice weekly for body sculpting and total body makeovers, including breast implants, breast lifts and tummy tucks. These mothers have often had multiple pregnancies and have had significant weight fluctuations associated with the pregnancy.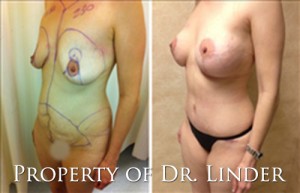 This patient is a very typical example of a women who has gained over 70 pounds with her second pregnancy, had two cesarian sections and now presents with involutional upper pole atrophy which means complete loss of fullness of her breasts, as seen in Photo #1. She also has significant amounts of skin laxity to the lower abdominal area, which would do well with a full extensive abdominoplasty tummy tuck and tightening of the rectus sheath muscles. The patient underwent saline augmentation in the dual plane technique using high profile style 68 Natrelle implants. She then underwent a complete formal mastopexy using the Wise-pattern breast lift and a full abdominoplasty dissecting up to the ribcage or the subcostal region. The muscles were plicated and the epigastric hernia was repaired. Liposuction of the iliac crest rolls or hips was performed in order to reduce muffin-top. Her results are three months postop showing excellent projection with small saline implants and formal breast lift well-healed scars and a full abdominoplasty showing smoothing of the lower abdominal area, flattening of the rectus muscle in the midline and softening of the hips with a nice contour.
Patients that present status post pregnancy and large weight loss do extraordinarily well with their total body contouring procedures which can be done under one surgical general anesthetic. These procedures normally take anywhere between two and a half to three hours when performed concurrently.
Below is a video of Dr. Linder explaining his approach to a tummy tuck and liposuction procedure as he pre marks a patient prior to surgery. He shows the patient the area he will address for the full tummy tuck, removing some of the skin, reposition the belly button, tighten the muscles and liposuction the thigh/hip areas.
To schedule your consultation with Dr. Linder and learn more about body sculpting procedures, call our Beverly Hills office at (310) 275-4513 or contact us on-line.