Wise-pattern Technique Breast Lift
Posted On: April 24, 2012 Author: The Office of Dr. Stuart Linder Posted In: Breast Lift, Breast topics
For patients with severe grade 3 ptosis, the Wise-pattern technique is my favorite approach.  This approach is basically referred to as the "keyhole pattern" in which skin is taken circumferentially around the nipple areolar complex vertically and along the inframammary fold.  By removing skin both vertically and along the fold, we able to tighten up the breast as well as to reshape the breast to give it a normal, round shape.  The nipple areolar complex is elevated to its new normal position.  Usually measurements from the bottom of the nipple areolar complex to the inframammary fold are approximately 5.0 to 5.5 cm.  The nipple areolar complex is premarked at 4.2 cm with a cookie cutter pattern and the skin is then de-epithelialized along the inframammary fold to the extent necessary to prevent dog-ears either along the medial or lateral breast.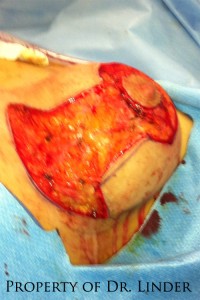 Many of my breast revision patients are patients who have undergone breast lifts that were not satisfactory to correct the skin laxity vertically as well as along the inframammary fold.  When patients present with grade 3 ptosis aka the nipple areolar complex is below 3 cm under the inframammary fold, normally a lollipop lift or a periareolar lift will not be sufficient and skin must be removed along the inframammary fold.  It is worth the tradeoff of an extra scar along the inframammary fold in order to have a perfect shaped breast.
Mastopexy and breast reduction surgeries are similar with respect to the Wise-pattern or anchor scar when patients present with severe grade 3 ptosis.  Remember, if you do the improper surgical operation such as a round block or a lollipop with severe grade 3 ptosis, you are sure to have a disfigured deform-shaped breast and will probably be knocking at our door for breast revision surgery.