Larger Breasts
Becoming More Common
March 2001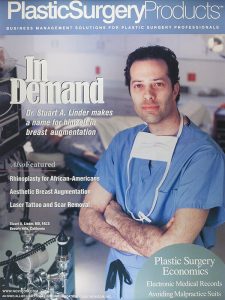 Over the next 12 months, another 500 or so women from around the world will be sporting larger breasts-breasts that are perfect as far as the human eye can discern.
These women will have one plastic surgeon to thank for their enhanced cleavage, Stuart A. Linder, MD, FACS, who is thought to operate the single highest-volume breast implantation practice in Beverly Hills, California.
"I've specialized my practice in cosmetic breast augmentation procedures," says Dr. Linder. "I achieve spectacular results uniformly because of my insistence on using a periareolar approach and sub-muscular placement whenever possible.
Dr. Linder, a solo practitioner, prefers implanting through the areolar because it affords safety and a consistent, predictable outcome. "This way, I don't have implants ending up at different levels as is often the case when surgeons go through the armpit," he says. "Going through the armpit may make it more difficult to accurately get the folds symmetric. But from the incision through the areola, I can get the folds almost absolutely symmetric. The implants, therefore, are positioned at the same level, and the nipples are up at 5 degrees.
I most often use smooth, round saline implants under the muscle because the shell of the implant doesn't adhere to the capsule or the tissue and the implant can move more freely in the pocket. Additionally, because I implant through the periareolar approach, one often finds identifying the actual incision site afterwards to be quite difficult."
SURGERY EVERY MORNING
Approximately 90 percent of Dr. Linder's cases are breast augmentations, mastopexies, reductions, and do-over's of other surgeons' sub-optimally performed breast procedures. The remainder are liposuction and tummy tucks. If a patient requests minimal facial plastic surgery, Dr. Linder will consider it but usually refers to other plastic surgeons. "It was because I concentrated my practice in breast surgery that I was able to quickly develop so large and successful a practice," explains Dr. Linder, who hung out his shingle in 1997. "My mentor said it would make good business sense, because of my young age, to make breast and body sculpting the focus of my practice." The advice, says Dr. Linder in retrospect, was some of the best he'd ever received. "I was only about 30 at the time and still in plastic surgery residency," he continues.
"I was told that since most patients seeking breast augmentations are young themselves, they would feel comfortable with me as their plastic surgeon. But, if I were to attempt a more generalized practice, I would have to appeal to older patients and could expect as many as 80 percent of them to decide to go elsewhere-possibly turned off by my young age. The assumption those older patients would make is that because I'm young I wouldn't be experienced enough to do the job right."
Nobody advised him on this, but Dr. Linder decided early in his practice to exhibit flexibility with regards to fees. That, too, it turned out, was a sage move. "I wanted to structure things so that if I'm dealing with a patient who is employed as a secretary, I wouldn't charge her what a movie star might be expected to pay," he says. "I believe in being sensitive to a patient's financial status. Besides, I know I'll make a lot more in the long run by handling it that way. Specifically, the patient is going to afford her breast augmentation, and therefore, will be so thrilled that she'll send five or six friends to see me. But, if I charge an unreasonable amount, that woman won't become a patient. And if she never becomes a patient, I won't be doing surgery on those five or six friends of hers".
Dr. Linder reports that he sees roughly 35 new patients per week. To accommodate that many consultations, his office is open Monday through Friday, plus half a day on Saturday. He also performs surgery every morning. Dr. Linder says he believes in maintaining a busy operating schedule, not only to keep his surgical skills in topmost form, but also avoid any delay in giving patients what they want.
ATTRACTING PATIENTS
"Every month I gain 30 or 40 new patient consults from the internet," he says. Such use of the Internet is the only form of advertising Dr. Linder employs at present. He does not run newspaper ads or television commercials because those forms of paid our reach tend to attract flighty problematic patients. Dr. Linder prefers to rely instead on word of mouth as the principal means of pulling in new patients, just as he has done since the practice debuted. Dr. Linder explains that he chose to set up shop in Beverly Hills because of the exclusive city's cache with consumers. "Beverly Hills has the image of being the place where the world's greatest plastic surgeons are found, "he says. "If you were a woman in Idaho who wanted to have the absolute best breast augmentation done, where would be the first place you'd think to start shopping for a plastic surgeon? Right, Beverly Hills, California. For that reason I felt it would be easier to attract patients to my practice by being here. And, I was correct about that. Being here in Beverly Hills really helped me hit the ground running."
Some would assert that Dr. Linder – a man of seemingly boundless energy and enthusiasm – hit the ground running the moment he was born in 1965. A native of Los Angeles, Dr. Linder says he settled on a career in plastic surgery by the time he was 13. "I can thank my father for inspiring that choice – he's one of the great pioneers in the field of anesthesia," Dr. Linder says. "Occasionally, he'd take me into the operating room to observe surgeries – all kinds of surgeries. But the operations that most fascinated me were the reconstructive surgeries and cosmetic plastic surgeries."
Once Dr. Linder set his sights on a career in plastic surgery, he never wavered. "I was awed," he recalls, "by the idea that it was possible to reshape and remodel the human body. I still am. Then, there's the fact that results are observable almost immediately. I mean, you can do breast or a tummy tuck, and you see the difference in two hours. Take the dressings off the next day and, wow, the effects are awesome."
Dr. Linder went to college at the University of California, Los Angeles, form which he received an undergraduate degree in bio-chemistry in 1987. Dr. Linder continued on at UCLA through medical school (completed in 1991) and general surgery residency (finished in 1994). For his training and fellowship in plastic surgery, Dr. Linder headed up the coast to San Francisco and St. Francis Memorial Hospital, where he spent the next three years. Immediately afterward, he returned to Los Angeles and set up his Beverly Hills practice.
In 1999, Dr. Linder became a diplomate of the American Board of Plastic Surgery, and a member of the American Society of Plastic and Reconstructive Surgeons, as well as the Los Angeles Society of Plastic Surgeons.