Massive Weight Loss Body Contouring
Posted On: April 27, 2017 Author: Dr. Stuart Linder Posted In: Body Sculpting, Panniculectomy, Tummy Tuck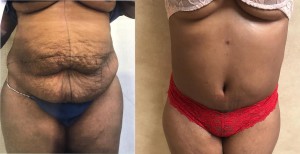 I evaluated a 44-year-old female wanting to improve her stomach area after massive weight loss. During her consultation, she explained how she was hoping to remove the loose skin as well as contour specific areas of her midsection. After listening to her and setting the expectation, we agreed to schedule two separate procedures to enhance the area.
In September 2016, I performed a panniculectomy, which involves surgically removing the excess skin and adipose tissue. Then in March 2017, I performed liposuction to improve the contour of her stomach/abdominal area.
The post-op photo is four weeks out. As you can see, her skin and shape look great, and most importantly she is very happy with her new and improved look.
To schedule your consultation with Dr. Linder or learn more about body contouring, call our office at 310-275-4513 or fill out our online contact form today.