5 Months After Breast Enhancement
Posted On: December 16, 2016 Author: The Office of Dr. Stuart Linder Posted In: Breast Augmentation, Breast Implants, Breast topics
This patient was a 25-year-old female who was wanting to enhance the size and shape of her breasts. During her consultation, she explained her desire to reshape her breasts with a slight lift and increase the volume. After setting her expectation, we agreed to use  320cc Allergan high-profile saline breast implants for her breast augmentation surgery.
The post-op photo is 5 months out, and she is extremely happy with her fullness, size, and cleavage when wearing certain types of clothing.
She was very kind to leave a review on line, which she shared with me during her follow up earlier this week.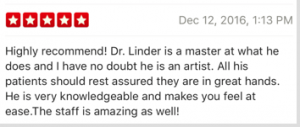 Highly recommend! Dr. Linder is a master at what he does and I have no doubt he is an artist. All his patients should rest assured they are in great hands. He is very knowledgeable and makes you feel at ease. The staff is amazing as well!!!! 
For more information regarding breast augmentation surgery or a consultation with Dr. Linder, give us a call at (310) 275-4513 or feel free to contact us via email.