AGE AND BREAST SURGERY, BEVERY HILLS/LAS VEGAS
Posted On: July 22, 2009 Author: The Office of Dr. Stuart Linder Posted In: Breast Asymmetry, Breast Augmentation, Breast Reduction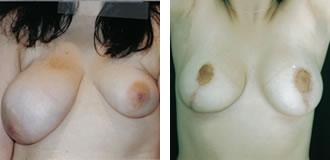 In general, we see patients of all ages who are considering breast augmentation, breast reduction and breast reconstructive surgeries.  The age of the patient is very important.  Obviously, up to a certain age, physiological growth continues to occur.  Generally, the age of 18 is usually, in my opinion, considered the cutoff for elective augmentation mammoplasty or breast reduction surgery.  However, there are exceptions to this rule.  The first exception in treating a teenage female who is under the age of 18 would include a severe congenital deformity, including congenital breast asymmetry in which one breast is significantly larger than the other, which can cause physiological, emotional and developmental distress.  As patients arise in their teenage years and in high school, there are emotional as well as physiological reasons to undergo breast reconstructive surgery to regain symmetry prior to the age of 18.  In general, I like to obtain a patient's pediatrician as well as the parental guidance in order to continue forward with reconstructive surgery to maintain symmetry of these younger patients.
Massive breast hypertrophy, also referred to as gigantomastic breasts, can also occur in teenagers, referred to as juvenile breast hypertrophy or gigantomastia.  These patients may not be able to wait until 18 years of age to undergo reduction mammoplasty to reduce the massive size of their breasts, just due to simply increased pain, neck strain, grooving along the shoulders, physiological and emotional embarrassment.  These patients also may undergo surgery at a younger age if considered clear both mentally and physically, as well as with parental supervision for consenting the patient.
In general, when patients decide on body contouring, including augmentation mammoplasty procedure and liposuctioning and are under the age of 18, we normally have the patients wait until the age of 18 so that the majority of physiological breast growth is completed.