Beverly Hills Plastic Surgeon on The View
Posted On: July 29, 2008 Author: The Office of Dr. Stuart Linder Posted In: Home, Media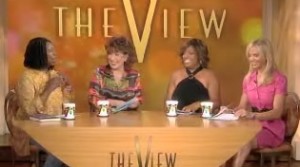 Yesterday, July 24, 2008, I had the opportunity and privilege to appear on The View in New York. This was a fascinating and wonderful experience, speaking with the hosts, including Whoopi Goldberg.
The segment was on plastic surgery and included multiple subjects associated with husband and wife plastic surgery, teenage plastic surgery and You-Tube plastic surgery.
I spoke specifically about You-Tube videos and plastic surgery because I felt it was important to explain the three reasons why I post videos from television on You-Tube. These included:
1) Education – educating patients on You-Tube with videos from shows such as The Discovery Channel, Woman's Entertainment and The Learning Channel, as well as Entertainment Tonight and Extra, in order to help safeguard patients from unqualified plastic surgeons, as well as procedures with risks and complications.
2) Entertainment – You-Tube videos should be entertaining and not boring, otherwise, nobody in the public is really going to enjoy watching it; and lastly,
3) Marketing – marketing on You-Tube and the internet, is obviously a very important method of increasing volume in your practice, allowing exposure.
Once again, it has been a privilege and an honor to appear on The View in New York on July 24, 2008. This is certainly an experience that I will remember.