Breast Implant Information
Posted On: May 13, 2010 Author: The Office of Dr. Stuart Linder Posted In: Breast Implants, Home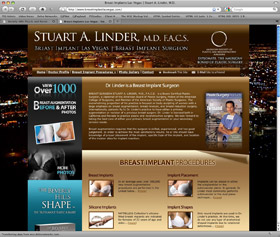 NOW AVAILABLE ON YOUR INTERNET.
The building of this site is now complete and breastimplantlasvegas.com  is now online, can be found at the bottom of drlinder.com or on Goggle itself.  This site was built to educate women worldwide on all the different aspects of breast augmentation surgery.
We are excited that this site specifically yields information that women will desire when considering primary or secondary augmentation mammoplasty procedure.  Subcategories do include "Augmentation Mammoplasty using Silicone Gel versus Saline Implants, Breast Deformities, including asymmetry, tubular breast, breast hypertrophy, pectus excavatum, and pectus carinatum, are described as well as augmentation with concomitant breast lifting, implant positioning, shapes, profiles, as well as reconstruction and revision.  This site is an excellent compliment to breastrevisionsurgeon.com and lasvegasbreastrevision.com .
Finally, breast health and Natrelle's implant warranty information is given to patients for future reference.  We hope you find this site to be extremely educational and informative when considering primary augmentation mammoplasty procedure or revision of your past breast surgery.