Lifting the Breast Without Using Implants
Posted On: September 25, 2018 Author: The Office of Dr. Stuart Linder Posted In: Breast Lift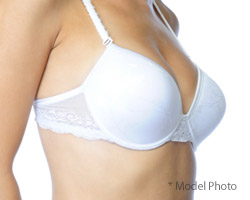 In general, lifting the breasts without implants requires a form of a breast lift  procedure.  For patients who desire a lift, but do not want larger breasts, a breast lift procedure including a periareolar crescent lift or small lift, a vertical mastopexy for mild to moderate skin laxity or a formal mastopexy using the inferior pedicle Wise-pattern technique or anchor scar is useful for complete tightening of the breast pocket.  Patients who present with significant amounts of breast tissue and grade 3 ptosis can have a nice breast lift without use of an implant.  It should be noted, however, upper pole fullness without an implant is never the same as with an implant, even a small implant.  As a result, patients often are not happy with breast lifts without a small implant because they do not achieve that same upper pole fullness as those women who have a prosthetic device placed in the superior, medial and central portions of the breast.  To lift the breast without a prosthetic device obviously requires tightening of the breast with skin removal.  Scarring is the most significant risk and this can include keloid hypertrophic scarring, widespread scarring, and hyperpigmentation.
Case Study
We perform breast lifts in our Beverly Hills surgical practice every week.  This is for both primary as well as the revision breast surgery in which patients present with double-bubble deformities, grade 3 ptosis or severe skin laxity.
This photo is an example of a primary breast lift without a breast implant. The patient had great volume in the breast area, but it was just distributed quite low with Grade III skin laxity (anything more than 3 cm below the inframammary fold is considered Grade III ptosis). I created a bulky central mound to allow for a full breast without needing an implant. To the left is the postop photo showing only one day out from surgery.