Daily Mail: Woman Contracted Salmonella in Her Breast Implant
Posted On: October 08, 2018 Author: The Office of Dr. Stuart Linder Posted In: Breast Implants
On Thursday, October 4, 2018, I was contacted by health reporter Mary Kekatos from the Daily Mail. Mary reached out and stated she was doing a story based on a case report about a woman whose breast implant had a salmonella infection associated with traveler's diarrhea. She shared the article dated September 19, 2018, from Elsevier, and I expressed that anything is possible; however, I've never heard of a single case of salmonella infection in an implant.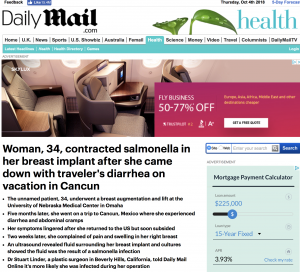 As always I am happy to contribute my thoughts to the Daily Mail and hope that my insight adds to the articles.
To read the full article from Mary Kekatos and the Daily Mail, click here.