Massive Weight Loss, Body Contouring
Posted On: July 23, 2015 Author: The Office of Dr. Stuart Linder Posted In: Body Sculpting, Breast Augmentation, Breast Lift, Breast topics, Liposuction, Panniculectomy, Uncategorized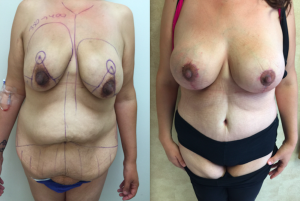 A 39-year-old female who lost a massive amount of weight recently came to my to my Beverly Hills office. After losing over 110 pounds, she was looking to remove the loose skin and have a breast
augmentation with a lift
.
After listening to her goals, we scheduled surgery where I performed an
abdominal panniculectomy
(removal of dense layer of fatty tissue growth), liposuction of the hips, and submuscular formal lift of the breasts using 350 cc high-profile saline implants.
As a board-certified plastic surgeon, these procedures are very gratifying, and most patients can improve mobility as well as feel better about their appearance. To the left is the before and after photo at six weeks post op.