Breast Augmentation Using Saline Implants
Posted On: September 06, 2018 Author: Dr. Stuart Linder Posted In: Breast Augmentation, Breast Implants, Breast topics
Case Study #1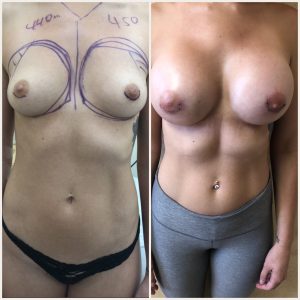 I was presented with a 23-year-old female who was looking to undergo a primary breast augmentation. During the consultation, she expressed that she wanted more enhanced cleavage and fullness to her shape. After discussing her goals, size, and shape, we agreed on scheduling a surgery date.
During the breast mammoplasty (augmentation), I made a periareolar incision along her lower areola and placed 400 cc high profile saline implants with a slight overfill. This type of implant creates spectacular cleavage with projection and fullness, especially around the parasternal angle (beside the sternum).
The post-op photo is now 3 weeks after surgery, and as you can see, the augmentation has achieved an enhanced cleavage and fullness.
Case Study #2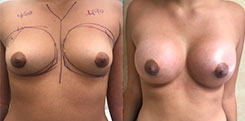 The female patient to the left came into my Beverly Hills office inquiring about breast augmentation. During the consultation, she expressed that her goal was to increase her breast fullness and size. After listening to her expectations, we selected for her primary augmentation 425 cc high profile saline breast implants (high profile implants are excellent for a little more projection).
During the augmentation surgery, I overfilled the right breast implant to 460 cc and the left to 470 cc to achieve symmetry.
The post-op photo is six weeks out, and she is happy with the size and projection.
For more information regarding breast augmentation surgery or to schedule a consultation with Dr. Linder, give us a call at (310) 275-4513 or feel free to contact us via email.