Breast Augmentation Using Saline Implants
Posted On: October 13, 2017 Author: Dr. Stuart Linder Posted In: Breast Augmentation, Breast Implants, Breast topics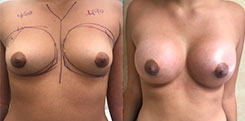 The female patient to the left came into my Beverly Hills office inquiring about breast augmentation. During the consultation, she expressed that her goal was to increase her breast fullness and size. After listening to her expectations, we selected for her primary augmentation 425 cc high profile saline breast implants (high profile implants are excellent for a little more projection).
During the augmentation surgery, I overfilled the right breast implant to 460 cc and the left to 470 cc to achieve symmetry.
The post-op photo is six weeks out, and she is happy with the size and projection.
For more information regarding breast augmentation surgery or to schedule a consultation with Dr. Linder, give us a call at (310) 275-4513 or feel free to contact us via email.