Moderate Plus Saline Breast Augmentation
Posted On: July 12, 2016 Author: The Office of Dr. Stuart Linder Posted In: Breast Augmentation, Breast Implants, Breast topics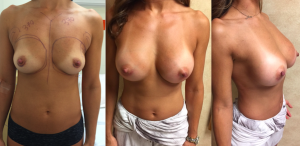 I was presented in my Beverly Hills practice a 31 year old female who was looking to have a breast augmentation.  During her consultation she expressed that she wanted a very natural look, not rounded and an implant that would balance her overall shape.
After listening to her expectations, we selected 330 cc saline moderate plus breast implants for the breast augmentation procedure. The moderate plus breast implants are the mid-range implants that have a moderate width and a moderate amount of AP projection. The implants where placed underneath the muscle (submuscular), the advantage of submuscular allows more soft tissue coverage and as you can see in the six-week post-op photos a more natural appearance.
For a consultation regarding breast augmentation surgery give us a call at (310) 275-4513 or feel free to contact us via email for more information.