Mommy Makeover Beverly Hills Style
Posted On: January 22, 2013 Author: Dr. Stuart Linder Posted In: Body Sculpting, Hernia Repair, Home, Mommy Makovers, Panniculectomy
The patient below presents for Mommy Makeover Procedures.  The patient has multiple complaints of the body, including breast dysphoria and grade 2 ptosis with sagginess of the breast as well as abdominal wall laxity and vertical midline scar status post gastric bypass surgery procedure as well as a significantly large pannus requiring a panniculectomy, liposculpture of the hips, repositioning of the umbilicus and repair of an upper epigastric hernia with a general surgeon.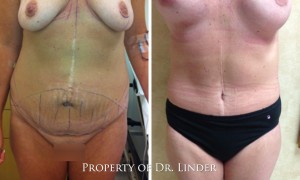 Her front views preoperatively show grade 2 ptosis; however, patient declines a breast lift at this time and therefore conservative high profile saline implants will be placed subpectorally in order to reposition her nipples without performing a skin lift.  She also has a large abdominal pannus of lower abdomen with midline upper epigastric hernia found on abdominal CT scan.  The patient was referred to Dr. Robert Uyeda, our general surgeon, for concurrent reconstruction of abdominal wall with abdominoplasty and augmentation mammoplasty procedure.
The patient's after photos show a very nice contouring of the lower abdominal area.  The midline vertical scar is now found below the umbilicus and the umbilicus has healed nicely.  The abdominal hernia was repaired with epigastric mesh, Marlex mesh graft reconstruction as well as liposculpturing of the iliac crest rolls and implant placement in the dual plane technique.  The patient is very happy with the results, showing a full C size breast with dual plane saline augmentation mammoplasty procedure using high profile saline implants, full tummy tuck with complete skin removal, tightening of the rectus sheath, hernia repair and sculpting of the iliac crest roll and muffin top procedure.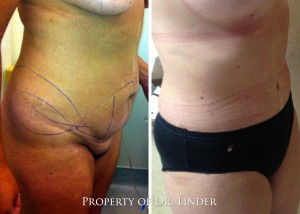 Mommy Makeovers in Beverly Hills are performed in my operating room weekly.  These patients should be preoperatively evaluated by their internists, cleared for surgery for general anesthesia and if hernias are found, abdominal wall reconstruction should be performed concurrently with a general surgeon.