Patient Reviews for Plastic Surgery
Posted On: May 30, 2013 Author: The Office of Dr. Stuart Linder Posted In: Home, Media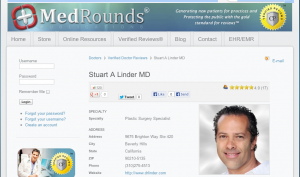 Patient reviews are becoming a very important part of the decision process for plastic surgery. Online reviews from former patients are allowing others the opportunity to see how there experience was.
There are numerous review websites allowing patients to review doctors. As patients, how do they know the reviews are actually from real patients? As doctors, how do we know the reviews posted about us are from our patients?
Medrounds is one more source that is available by partnering with Credential Protection to post only Verified Doctor ReviewsTM.