Recognized As One of RealSelf 100
Posted On: March 25, 2016 Author: Dr. Stuart Linder Posted In: Media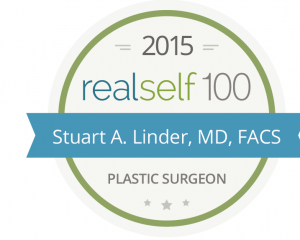 On March 22, 2016, I received notification that I am one of 100 doctors in the nation to receive the prestigious RealSelf 100 award. RealSelf is an online community that helps people make confident choices in elective cosmetic procedures.
The RealSelf 100 award recognizes doctors for having an outstanding record of consumer feedback and for providing credible, valuable, and insightful responses to consumer questions about elective cosmetic treatments in plastic surgery.
I believe it is important to participate in answering these questions on RealSelf that patients have when considering aesthetic-related questions. I have answered over 550 questions and have enjoyed doing so these past few years, and I look forward to answering more questions patients have about aesthetic plastic surgery.