High Profile Breast Implants
Posted On: January 08, 2018 Author: Dr. Stuart Linder Posted In: Breast Augmentation, Breast Implants, High Profile Breast Implants
High profile saline and silicone implants are used weekly in Dr. Linder's practice. The favorable advantages of the high profile Allergan and Mentor® saline and silicone implants include:
The base diameter is more narrow; thereby patients have a sleek, thinner, and tapered appearance than the moderate plus or moderate profile saline implant or silicone implants.
These implants are fuller and rounder, especially with the saline, which may lead to less visibility and rippling, especially along the medial breast cleavage area.
Patients can have larger breast implants placed without looking matronly and wide along the sides.
Pectus Excavatum
The patient below is shown six weeks post-surgery wearing a SEXY SHAPEWEAR™ sports bra that I designed. The sports bra is designed to allow ultimate compression, comfort, and the perfect fit for all fitness training workouts and sporting needs. She is recovering from breast augmentation surgery where 425 cc high profile saline implants were placed. The patient had a slight condition called pectus excavatum, also known as sunken chest, which is a common congenital deformity of the anterior wall of the chest in which several ribs and the sternum grow abnormally.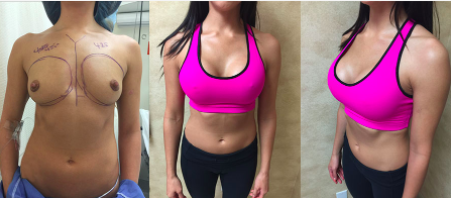 Bilateral Breast Hypoplasia
The patient below is a 19-year-old Latin female presenting with bilateral breast hypoplasia. She is an excellent candidate for high profile saline implants using the dual plane technique, periareolar approach. The patient desired to have natural-appearing breasts, which can be performed with high profile saline implants as long as they are placed in the subpectoral pocket and positioned correctly. The periareolar incision site was performed, and the implants were placed using the dual plane technique.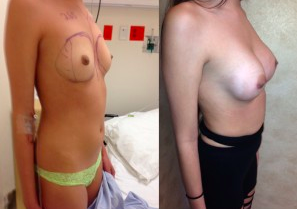 In the photo set above, her breasts appear to be quite natural, and the patient is extraordinarily happy with the shape, size, and appearance of her breasts. The muscle allows for softening, and the upper pole of her breast is seen in her oblique view. High profile saline implants, when placed in the appropriate position, lead to a beautifully natural result.