Talk of the Town California 2012
Posted On: January 23, 2012 Author: The Office of Dr. Stuart Linder Posted In: Media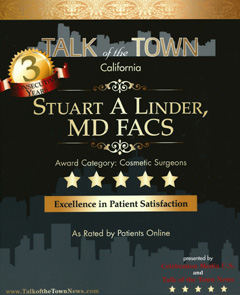 I received for the third consecutive year the award "Talk of the Town California". The award category is Cosmetic Surgeons and was presented by Celebration Media U.S. and Talk of the News. It is a privilege and honor once again to be recognized.
"Ratings are calculated based on consumer-review websites and blogs, social networks, business rating services and other award information to determine the top companies across the country. Only those high ranking businesses with a 4-5 star rating win the Talk of the Town News Customer Satisfaction Award." http://www.talkofthetownnews.com/
TALK OF THE TOWN CALIFORNIA
Excellence In Patient Satisfaction – 2012
Rated by patients online and awarded to Stuart A. Linder, M.D. in the Cosmetic Surgeons category.
Presented By:
Celebration Media U.S.
Talk of the Town News