PIP Breast Implant Problem Makes Its Way To Beverly Hills
Posted On: January 27, 2012 Author: The Office of Dr. Stuart Linder Posted In: Home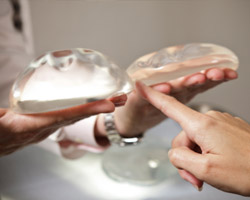 Recently, I saw a patient who presented from Valenzuela with ruptured silicone PIP implants that were placed approximately four years ago.  The patient is extraordinarily concerned, having had an MRI showing a ruptured silicone implant on the right.  Recently, it was reported that over as many as 50,000 women, including almost 30,000 in the United Kingdom, may have received these silicone gel implants.  They were also implanted in women from South America, including Argentina, Valenzuela, Brazil, London and Paris, France.  These implants have been shown to have a significant incidence of rupture with silicone spillage.  In fact, on March 31, 2010 a medical device alert related to the silicone gel filled implants by PIP were recalled through a U.K. supplier.  Studies have shown that the performance and safety of the PIP breast implants were not in accordance with current expected standards.  The recommendations have included that all women with PIP implants should be referred for an ultrasound.  All women with ruptures or suspected ruptures should have both of their PIP implants removed as soon as possible.
In December 2011, reports from the French Publication Liberation stated that all women in France who received breast implants supplied by Poly Implant Prothesis or PIP, should have them removed immediately.
This patient that I saw yesterday has what appeared to be a ruptured right silicone implant and she will be brought to the operating room in the next two weeks to have the implants removed and replaced with FDA-approved Allergan silicone gel Natrelle implants.