Total Male Makeover
Posted On: February 14, 2012 Author: The Office of Dr. Stuart Linder Posted In: Gynecomastia, Hernia Repair, Home, Liposuction, Male Body Contouring, Panniculectomy, Tummy Tuck
STATUS POST MASSIVE WEIGHT LOSS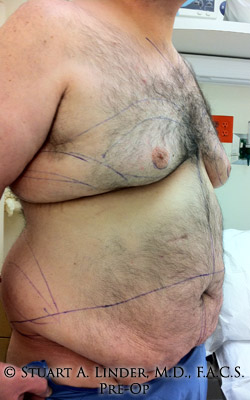 The patient to the left presents with massive weight loss, weighing over 340 pounds, having had a laparoscopic banding procedure (gastric bypass surgery), lost over 140 pounds, now weighs 200 pounds even. He has massive amounts of skin from the chest area extending to the lateral breast and extending down to the pannus. He will undergo a partial subcutaneous mastectomy with tumescent lipectomy, lipo-sculpting of the lateral chest area as well as a full panniculectomy or large abdominoplasty with umbilical hernia repair with our general surgeon as well as lipo-sculpting of the hip region.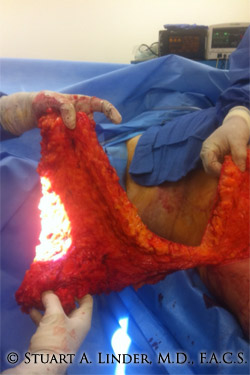 The second photograph shows the patient undergoing a partial mastectomy. Tissue is being removed in the retroareolar plane, extending to the fascia over the pectoralis major muscle. Once this tissue is removed, complete lipo-sculpting of the rest of the chest from the infraclavicular, parasternal, inframammary into the lateral anterior axillary line was performed. Subsequently, at this time a mastopexy or lift will not be performed. We will determine how much skin tightening occurs and then on a separate stage several months from now a breast lift may be required in order to tighten up representative skin. Looking at the pannus, there is a massive overhang. He does have an umbilical hernia on examination and the general surgeon will be repairing this. In the operating room he was found to have rectus diastasis. The muscles were plicated. The hernia was repaired.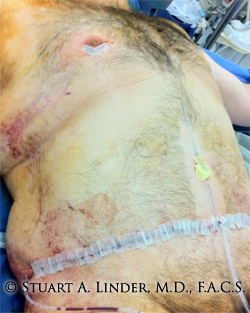 The postoperative photo here on the operating table shows the chest is softened immensely. There is great smoothing out of the chest wall as well as reduction of the lipodystrophy of the lateral breast chest area. Notice the incision is hip-to-hip and there are three drainage tubes in. The abdominal wall is now flat. The patient has done extraordinarily well.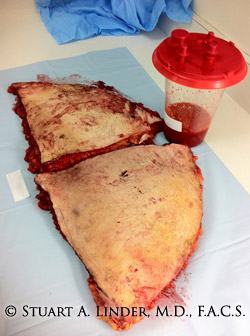 The photograph shows the actual 25 pounds of tissue that was removed from the abdominal wall as well as the liposuctioned fat from the lateral chest and hips.
Patients present after massive weight loss laparoscopic banding procedures for tummy tucks, paniculectomies and gynecomastic surgeries or possible breast lifts. This is an excellent example.