TYPES OF BREAST LIFT PROCEDURES
Posted On: October 25, 2019 Author: The Office of Dr. Stuart Linder Posted In: Breast Augmentation, Breast Implants, Breast Lift, Breast topics, Plastic Surgery
Woman from all over the world come to Beverly Hills to see Dr. Linder to have their breasts augmented, lifted and reduced. Breast lift surgery in Beverly Hills is a very common procedure that we perform every week. Breast lifts are very important when women have excess skin associated with either weight loss or the effects of pregnancy associated with breast feeding and involutional atrophy with increase in skin laxity after breast feeding. Breast lift operations can often be combined with augmentation mammoplasty, placing a saline or silicone implant under the muscle, using the dual plane technique.
BREAST LIFT APPROACHES WE OFFER
Breast lift surgery include several categories. The first is a periareolar crescent lift where a small amount of skin is removed above the nipple areolar complex in a crescent fashion, which can be used to elevate the nipple areolar complex only a short distance. This often is not an appropriate approach and may lead to wide spreading of the scar.
The second approach is the round block or the areolar lift where skin is removed circumferentially around the areola. I do not perform this operation very frequently because of the scarring associated with it and the usual inadequate lift that I have found in my experience with this operation.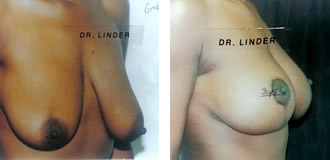 The next is a vertical mastopexy where the areolar is lifted and made smaller, approximately 4.2 cm and skin is removed from the vertical plane only, not along the fold. This can be an excellent adjunct to augmentation mammoplasty to elevate the nipple areolar complex and the scarring is usually quite well.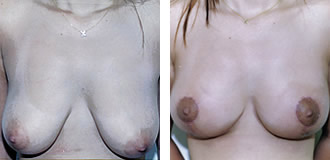 Finally, a formal mastopexy using the anchor scar or the Wise-pattern technique is an excellent lift that usually leads to a nice shape of the breasts, excellent lift and can be combined with implants placed behind the muscle. This lift scar is an anchor-like incision which can be good or bad, and depending upon color of skin, can lead to increased hyperpigmentation, hypopigmentation, wide-spreading scars, hypertrophic scars or even keloids. This should be discussed with the plastic surgeon in great detail prior to undergoing a formal mastopexy or anchor scar Wise-pattern lift.
---
To schedule your consultation with Dr. Linder and learn more about breast lift surgery techniques, call our office at 310-275-4513 in Beverly Hills or fill out our online contact form today.